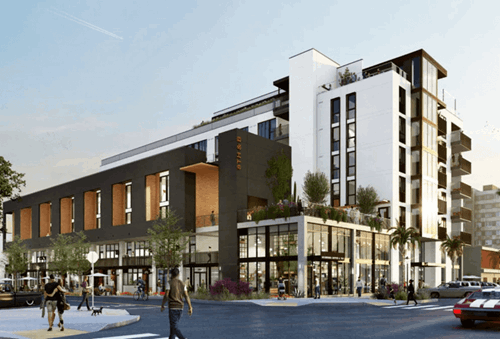 Parco will be the first development in the San Diego area to offer all-inclusive coliving units on an institutional scale.
Common, a coliving provider, announced that this newest property, which is located in National City, will include 127 units. Units come in a variety of sizes including furnished and unfurnished studios, one-to-three-bedroom apartments and townhouses, and three-to-four-bedroom rowhomes. The three and four bedroom units will be marketed as all-inclusive and convenient coliving spaces.
The waitlist to rent a unit is now open, with monthly rent being about $1000.
Furnished and coliving studio rents will also include utilities, basic household supplies, weekly cleanings, and WIFI.
The development will also have a rooftop with 360-degree views of San Diego, which may serve as a venue for Common's community events. The ground floor also includes leasable commercial spaces, which may become restaurants or other attractions that could be appealing to tenants.
The Property was developed by Malick Infill Development and Protea Properties, designed by The Miller Hull Partnership, LLP, and built by Cannon Constructors.
Andrew Malick, president of Malick Infill Development, said: "We selected Common with the confidence that they will deliver a modern, comfortable and convenient lifestyle at an attainable price point. We're excited for Parco and its residents to become part of the Downtown National City experience, a vibrant urban neighbourhood with a rich history and unique character."
As a member of Parco, all residents will also have access to Connect by Common, Common's technology that allows renters to make payments, communicate with roommates, RSVP to community events, and more.
This new opening is one of many new developments for Common, who focuses on offering attainable middle-income prices, also recently announced a $300 million expansion in Los Angeles. The brand, which currently manages 1,800 units, also has 6,300 units in development in western cities like Phoenix and Portland. The brand has also seen growth in Chicago, Washington DC, and New York City.
In the last year, the company has also taken over assets from a former competitor, Starcity, and had a $50 million Series D venture capital round.
Amalia Paliobeis, senior managing director of real estate at Common, said: "We're thrilled to bring Common's robust community-first operations to the San Diego area with Parco this summer. The Common team believes intelligent design and purposeful technology can create a better housing experience in growing cities across the world. The team at Malick Infill Development and Protea Properties is deeply committed to building the foundation for the Downtown National City neighbourhood and culture, and we're proud to feature Parco as our first property in the San Diego area."